Tanzila Khan
Founder - Lahore
Tanzila Khan is the founder of Iwish. She has been a public speaker and has delivered sessions on various topics such as unleashing creativity, overcoming barriers, and inclusion across 19 countries through various workshops and training sessions. She wrote her first book, 'A story of Mexico' when she was 16 and then went on to publish her second book, 'The Perfect Situation' later. She has sold her books to fund community projects in the fields of disability, women empowerment, education and the environment. Her NGO is Creative Alley which trains and empowers the community through events and projects. Tanzila has been awarded fellowships such as Young Connector of the Future by Swedish Institute and Young Leader by Women Deliver. She also ventured into Film making and acting to project disability through a heart-warming short film called FruitChaat. She has launched Pakistan´s first fully accessible podcast by the name, ´Brain Masala.´
H.M.Usama Khan
IT and Design Manager
He has completed his B.S in Software Engineering from COMSATS University Islamabad. Currently working as a Data Engineer and overlooking Iwish´s projects related to tech and design such as Girlythings.pk
Khadija Aleem
Project Coordinator
She is an ordinary girl who has completed her MPhil (Gender and Development Studies) from Lahore College Women University, Lahore. She is also a Research Scholar, a Gender specialist, a self-defense trainer, and a lecturer. She has previously worked on projects related to life skills-based education, social action projects, and active citizens projects. She is also involved in research for the past two years in various domains like the influence of parents' education on life partners of their children, problems faced by single parents, triple roles and married working women in Pakistan, men's attitude towards their health, ethical self-regulation and academic dishonesty during online classes and spousal preferences among adults and their parents
Zargoona Wadood
Advisory - Quetta
Zarghoona Wadood a disability Rights Advocate and working with UNWFP under Disability Inclusion Initiative. She has a Masters in English and LLB Degree Holder. She has also been working on disability since 10 years Provincially Nationally and Internationally.
Afshan Afridi
Advisory - Peshawar
She is a wonder woman affected by polio and now working as a disability expert in the Humanitarian and Corporate sector. She has been to many countries to pursue international training and experience related to disability, advocacy, gender, and SRH. She is working in the social sector since 2011 and has also worked with many OPDs (organizations for people with disabilities) and other humanitarian organizations. She has also won awards for her work to empower women with disabilities in KP and Pakistan from the Youth Affairs department, and sports and tourism department.
Maria Zia
Advisory - Islamabad
Maria Zia has a BS Hons' from Pakistan in Media and Communication Studies. She is currently working in a national development organization, Hashoo Foundation as Project Officer – Inclusive Initiatives. She is a visually challenged person due to retinal disorder, which was diagnosed when she was just three months old. Despite her disability challenges and belonging to the rural remote area of the country, she did not lose my ambitions and hopes and kept on developing herself through different sources. She is among those few luckiest PWDs who studied in mainstream education since Montessori up to the university. She has professional experience of working with organizations like Sightsavers International, Handicap International, and South Asian Disability Forum. She has recently launched my start-up "Digital Inclusive Library" which aims to provide audio-books of all literature to the blind.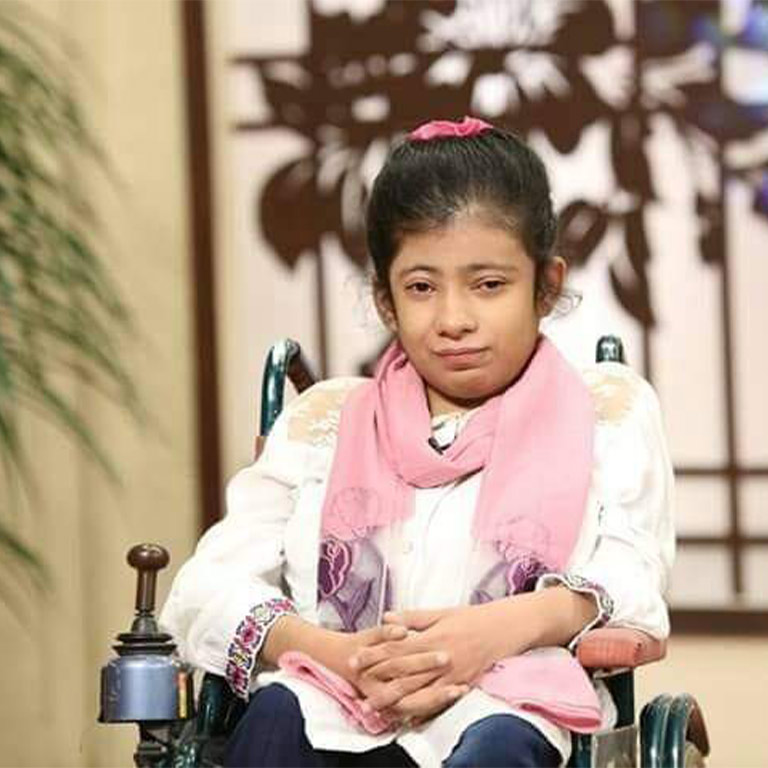 Hiba Tariq
Advisory - Lahore
She is a 26-year-old person living with disabilities but that does not hold her back. As a freelancer, she works on website development and works from home. She is also a social activist and doing social work for the empowerment of people with disabilities.